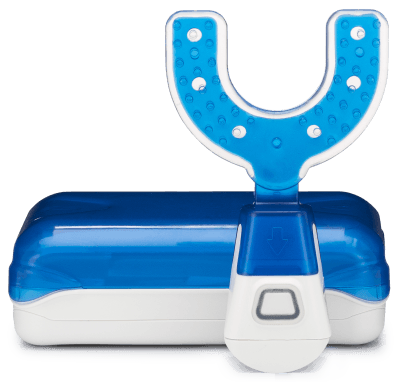 At Hodges Orthodontics, our goal is to provide you with treatments that are effective and comfortable as well as fast. We use advanced technology such as Propel orthodontics to reduce your overall treatment time and help you achieve a straighter and more beautiful smile.
Propel technology shortens your overall treatment time through the use of innovative devices and procedures which work to move your teeth into their correct positions as quickly and comfortably as possible. Propel produces the best results when used in combination with more traditional orthodontic treatments, such as braces or Invisalign®.
Propel is comfortable and minimally invasive, using advanced technologies and techniques to stimulate bone remodeling and move your teeth quickly and predictably. When you receive Propel treatments, Dr. Ryan Hodges will create microscopic alveolar perforations, or holes in your supporting jawbone, which accelerate and stimulate bone production. This then causes the teeth to move into their proper positions more quickly – in fact, it may increase the speed of tooth movement by up to 50%!
While a local anesthetic is available should you need it, Propel is designed to be comfortable and any discomfort you do experience will be minimal. The majority of patients who receive Propel treatments experience little or no pain. The treatment can be completed in just a few minutes and requires no recovery time.
Call or text us today at 805-498-1006 to learn more about Propel orthodontics in Newbury Park and Moorpark, California, and schedule your consultation with our caring orthodontist.