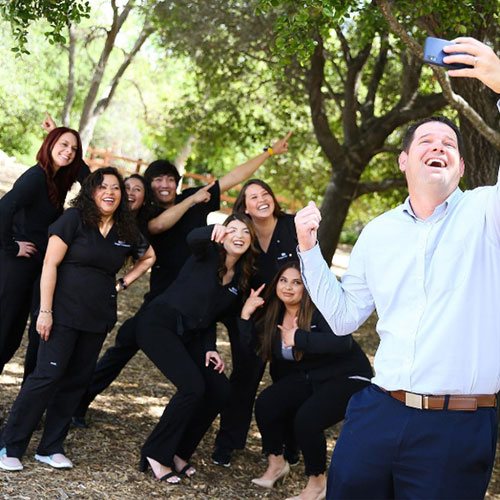 At Hodges Orthodontics, you will get an experience unlike any other. We pride ourselves in being a unique orthodontic practice in many ways and have highlighted just a few below. We invite you to come visit our office anytime and see for yourself why we think you will love our office.
Our orthodontist is amazing!
Dr. Hodges is a UCLA-trained orthodontic specialist. He is committed to providing the highest possible quality of care and treats each person he meets as if he were treating his own family member — with compassion, respect and honesty. He is caring, fun, relatable and excellent with children.
Invisalign® for the cost of braces!
We want you to choose the best treatment without money being an issue. That is why we offer Invisalign aligners for the same cost as braces. Hodges Orthodontics is the leading Invisalign provider in Moorpark and Newbury Park, and as such, we have the experience, skill and expertise to give you and your family the very best!
We respect your time.
Our orthodontist and team keep our office running smoothly and on schedule. We know that you are busy and that your time is precious. When you visit Hodges Orthodontics, we strive to see you at or before your appointment time.
We offer easy, flexible financing options.
We never want your budget to prevent you from receiving excellent care. We offer a variety of payment options to meet your needs. Our office accepts payments by cash and checks, and all major credit cards. We are pleased to offer in-house financing options to help make your treatment more affordable. We offer discounts for full payment up-front and for multiple family members receiving treatment.
Our office is FUN!
Our goal is to help you enjoy the process of achieving a more beautiful smile. When you visit Hodges Orthodontics, you can expect to receive not only high-quality treatment and excellent results but also encouragement, advice and support. We are on your side, and we love laughing and smiling with you and helping you feel at ease during your visits. Our patients love participating in our monthly contests and signing the autograph wall when they finish treatment!
Cutting-edge technology.
Dr. Hodges uses the latest technologies to provide precise, comfortable and effective care that meets your needs, including:
We are family friendly!
We offer orthodontic treatment for patients of all ages. Your whole family is always welcome at your orthodontic appointments. We love seeing families grow over time and love being part of your lives. Our reception area is often a community reunion, and we enjoy seeing our friends and families mingling together. Our goal is to give our patients a neighborhood feel while providing high-quality and cutting-edge treatment.
We support our community!
We are a true community and neighborhood orthodontic office. We love providing care to neighbors and friends, and we are extremely involved in our community. Dr. Hodges and our team are long-time supporters of school, sports and music programs, and they can often be found volunteering within the community.
We welcome you to call or text us at 805-498-1006 to schedule a consultation and find out more about orthodontic care in Newbury Park and Moorpark, California. We look forward meeting you!